I have been away for a long time so it is time to get back to this now that I have something to blog about.  I am going to take you along on my sewing room remodel.  I have been building a Pinterest Board for a long time planning on how to set it up and pinned ideas that I liked.  I also have a note pad that I have been jotting ideas in and scratching out diagrams for a while now.  Check out my New Sewing Room Board on Pinterest www.pinterest.com/katykurkiewicz.   I think I have more plans for the room than I have space to fit, well we will see as we progress.  I took some photos of before I got started, the room was packed with fabric, boxes, and bags, actually it was a catch all room.  I think I am too embarrassed to post the before pictures, maybe later.  I'll photo as I go along though.
I started out with these great 16 inch wire shelves that I thought would be so cool, NOT for me as it turned out.  My cats jumped up on the lower shelves, squeezed between the piles of fabric then walked along the back of the piles leaving cat hair on all the fabric.  YUK!
I have some DO's and DON'Ts, I will list as I progress.
DON'T

: Do not use 16 inch wide wire shelves for fabric.  I tried to fold fabric so that it was narrow and long which worked okay for large pieces, but the smaller pieces got lost.  If you want to use wire shelves try the 12 inch wide or less.  I put them on my East wall then around the corner and on the South wall, didn't like how the corner came out either.
I didn't want to sort everything as I cleaned out the room so I just got a ton of boxes and packed everything into boxes and bags and stashed them along the walls in my bedroom, down the hall, and down the stairs.  Okay I really feel like a hoarder!  I have almost everything out except a couple of pieces of furniture that are going to stay, they are in the center of the room.   Now to get rid of the wallpaper, I have been scraping, spraying with water solutions, and scraping more for days and days.  I think it would have been faster if I just removed the walls and put up new drywall.  (Did I mention my house was built in 1926 and the walls are all lath and plaster and it is a major project to remove them.)  One of the walls has at least 3 layers of wallpaper with paint between.  The lower portion of the walls have this ugly dark olive green paint, another section of wall has not only the olive green but above that is a dark rust red.  I am going to have to paint several coats of primer to cover it before I put finish paint on the walls.
Now that the wallpaper is gone, I am washing all the old paste off the walls.  Let me rephrase that, I am scrubbing off the old paste and bits of paper residue. The one wall with the multi layers is still peeling little bits at a time.  As soon as I get it washed and any loose pieces are gone I have some special paint to stop the peeling.  I will take some photos tomorrow and try to post them so you can see where I am.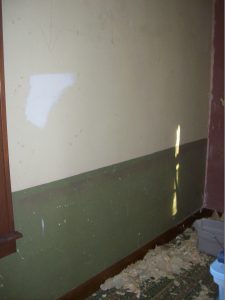 This photo is of the east wall, wallpaper is all off finally and what has not been picked up is all over the floor.
Not sure if this is a DO or DON'T but I sure was able to take out some frustrations while working on removal of this stubborn old wallpaper.
DO: Pay attention when patching and sanding because as the primer and finish coats go on flaws will jump out at you.  You can still do some patching after you prime, just sand the patch and paint the spot with a little more primer.  Even after you put on your finish coat if a nail hole or other flaw shows up just patch, touch up with a little primer and cover with the finish coat.
DO: Use a good primer especially if there are dark colors that you want to paint over.  With the dark olive green and rusty red I put two coats of primer, then the finish coat covered nicely.
DON'T: Use only one strip of tape on the trim if it is wide, the door frames were wider than the tape and I have several spots where I got too near with the roller and I got paint on the wood frame.  It is going to take longer to clean it off than if I just put another strip of tape on it.  Live and learn.
DO: Choose your finish coat color wisely.  Dark colors can wreak havoc when matching fabrics for a quilting project.  I hope my light mint green is light enough, the thought of repainting does not excite me currently.
Ok, back to building my cubbies.
October 9, 2017
Alright I have 4 of the 12-cube cubbies put together and I am trying to figure out how to set one on top of the other so that I have 8-cubes up and still doing it myself.  Decided that a piece of plywood on the back would hold the two cubbies together and give each cube a back.  I cut a piece of 4 x 8 x 1/4 inch plywood to size, gave it a coat of good primer and decided to screw it on.  Two of the cubbies are laying upside down end to end with the plywood laying face down on top.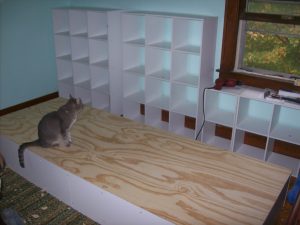 Looks like Maxx is checking out my work to date.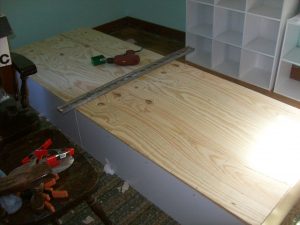 I made sure that the top (the end to the right edge of this photo) was even with the plywood then drilled holes and inserted the screws.  Next I drew a line across from side to side with my 3 foot metal level lining up the screw on each side of the top unit that put the unit together.  Draw lines across at each set of side screws to the bottom of the top unit.  This should make all of my screws go into the center of the shelf board.   I drew lines and put in my screws to the top unit only.  Next I lined up the bottom of the bottom unit with the plywood (see the top left of the photo), be sure that the two units are together tight, check where the two units meet in the center.  You do not want a crack where the two units meet in the center.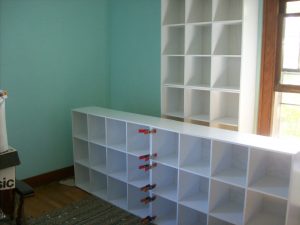 Next I placed the units on their side (long side) and put a pair of clamps in each of the 3-cubes.  This should give it extra strength when I set the unit up.  Next I laid the unit back face down with a chair under the top edge.  From here I reached underneath and set the unit up on the short edge, see next photo.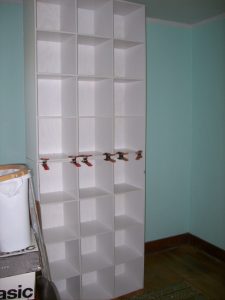 I removed the clamps and slide the unit over to the south wall next to the window.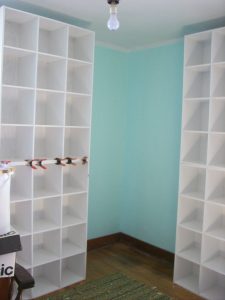 I now have two sets of the units backed and set up.
Why I was resting from standing up the last of the two units I looked out the window and thought I would show you the view from the two windows in my new sewing room.  The sewing room is on the second story of my house so you are looking straight into the branches of the trees to the south, like being in a tree house.
Above photo is the view from my south window, I have several maple trees south of my house and I noticed that with the sun shining on the leaves the colors are beautiful.  You can just see the red leaves on my large old maple and the younger trees in the back are turning yellow.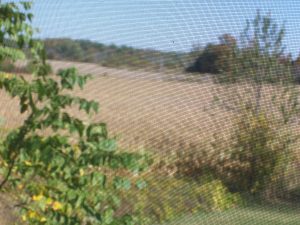 This window looks to the east but I have pointed the camera to the north east so you only see a little of my lawn (bottom right corner) the rest is the corn field to the north of my house.  It has been drying down, should be ready to be combined in another 2 or 3 weeks.  Seems to be ahead of schedule this year.  Sorry about the lines in the photo that is my window screen interfering with the photos.
October 17, 2017
Finally got the last 24-cube cubby standing but not sure which end of the wall I want to put it.
Now that the three 24-cube cubbies are standing the heavy work is done.  I have one more 12-cube cubby to assemble and an 8-cube cubbie to assemble, those will be easy and hope to have them done and standing yet this afternoon.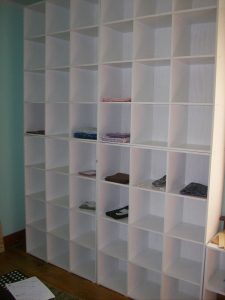 I have the shims under this section, they are now very close to level (south wall).  And yes that is fabric you see in some of the cubbies, I couldn't wait any longer so I emptied one bag and sorted the colors.  Yesterday I got out my label maker and started making labels.  I think I may empty another bag of fabric, this is exciting I am actually playing with my fabric.  Only 1 bag then back to my assembling cubbies.
Here is the south wall, cubbies under the window and two sets of 24-cube cubbies next to them.  The set of cubbies with the level leaning agains will go on the east wall on top of a 12-cube cubby.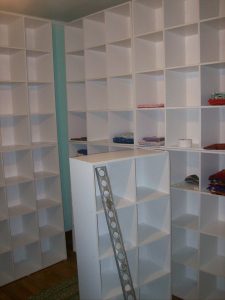 The first set of 24-cube cubbies is against the east wall (left side of photo).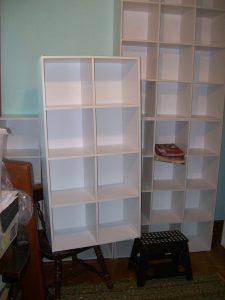 The 8-cube cubby went from the floor to the stool then the chair seat, next the top of the back of the chair and finally on top of the 12-cube cubby.  Not sure how I got the 8-cube cubby but actually I am glad since it breaks up the wall a little.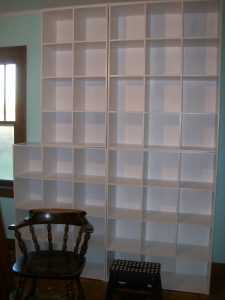 Well finally the cubbies are all assembled, attached, and in place.  Yes I did add some more fabric to the south side.  Tomorrow I am going to take out a couple more sections of carpet so I can set up my mom's old rectangle table.  I am going to put my big cutting board on it then I can start folding my fabric to size.  I have 92 cubes for fabric.  I am thinking of a couple of the fabric drawers for the bottom row of cubbies, we will see.
I have the counter (an old blank door) and two cupboards that will hold up the counter to paint yet and I figured to do that in the sewing room, that is the reason for leaving the balance of the old carpet.
November 17, 2017
Things are starting to come together in the sewing room, so I thought I post some photos.  I have discovered that my fleece stash is a little overwhelming so since I have a table set up for refolding all my fabric to fit the cubbies it could also hold my sewing machine and I could do some sewing.  I have finished a three fleece blankets and a flannel blanket for my shop which made a small dent.  Definitely need to do more blankets.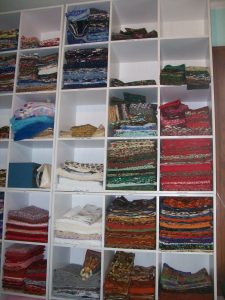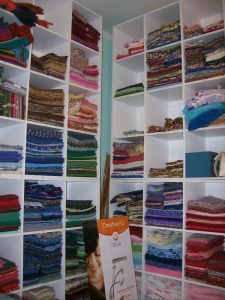 I am still rearranging fabrics and combining.  There is a couple of cubbies of flannel and some home dec fabrics that may or may not stay.  This process is taking a while since I am refolding all the fabric to fit the space and not wasting space.
February 1, 2018
Haven't posted for a while but I am sewing like a mad woman and going through and sorting boxes and bags.  Lots of old craft supplies are being posted to my shop on Ebay: http://stores.ebay.com/Katy-s-Corner-Vintage-Shop?_trksid=p2047675.l2563
I will get back to working on the remodeling as soon as I get through a few more boxes and bags and make room for my sewing table (and do some more sewing).  The table top and two cupboards that will be holding it up will need to be painted before I install.  I am currently planning out the stand that the cutting table will be standing on.